Research | Volume 2, Article 2, 05 May 2020 |
10.11604/pamj-oh.2020.2.2.21200
Knowledge and health system factors influencing utilization of cervical screening services among sex workers in Kiambu County Hotspots, Kenya
Faith Mugai, Jane Karonjo, Felix Mwendwa Mutua, Peter Kamau, John Kausya
Corresponding author: Faith Mugai, Department of Epidemiology and Biostatistics, Mount Kenya University, Thika, Kenya

Received: 06 Dec 2019 - Accepted: 23 Apr 2020 - Published: 05 May 2020
Domain: Health communication,Non-Communicable diseases epidemiology,Oncology
Keywords: Sexually transmitted diseases, cervical screening, sex workers
©Faith Mugai et al. PAMJ - One Health (ISSN: 2707-2800). This is an Open Access article distributed under the terms of the Creative Commons Attribution International 4.0 License (https://creativecommons.org/licenses/by/4.0/), which permits unrestricted use, distribution, and reproduction in any medium, provided the original work is properly cited.
Cite this article: Faith Mugai et al. Knowledge and health system factors influencing utilization of cervical screening services among sex workers in Kiambu County Hotspots, Kenya. PAMJ - One Health. 2020;2:2. [doi: 10.11604/pamj-oh.2020.2.2.21200]
Available online at: https://www.one-health.panafrican-med-journal.com/content/article/2/2/full
Research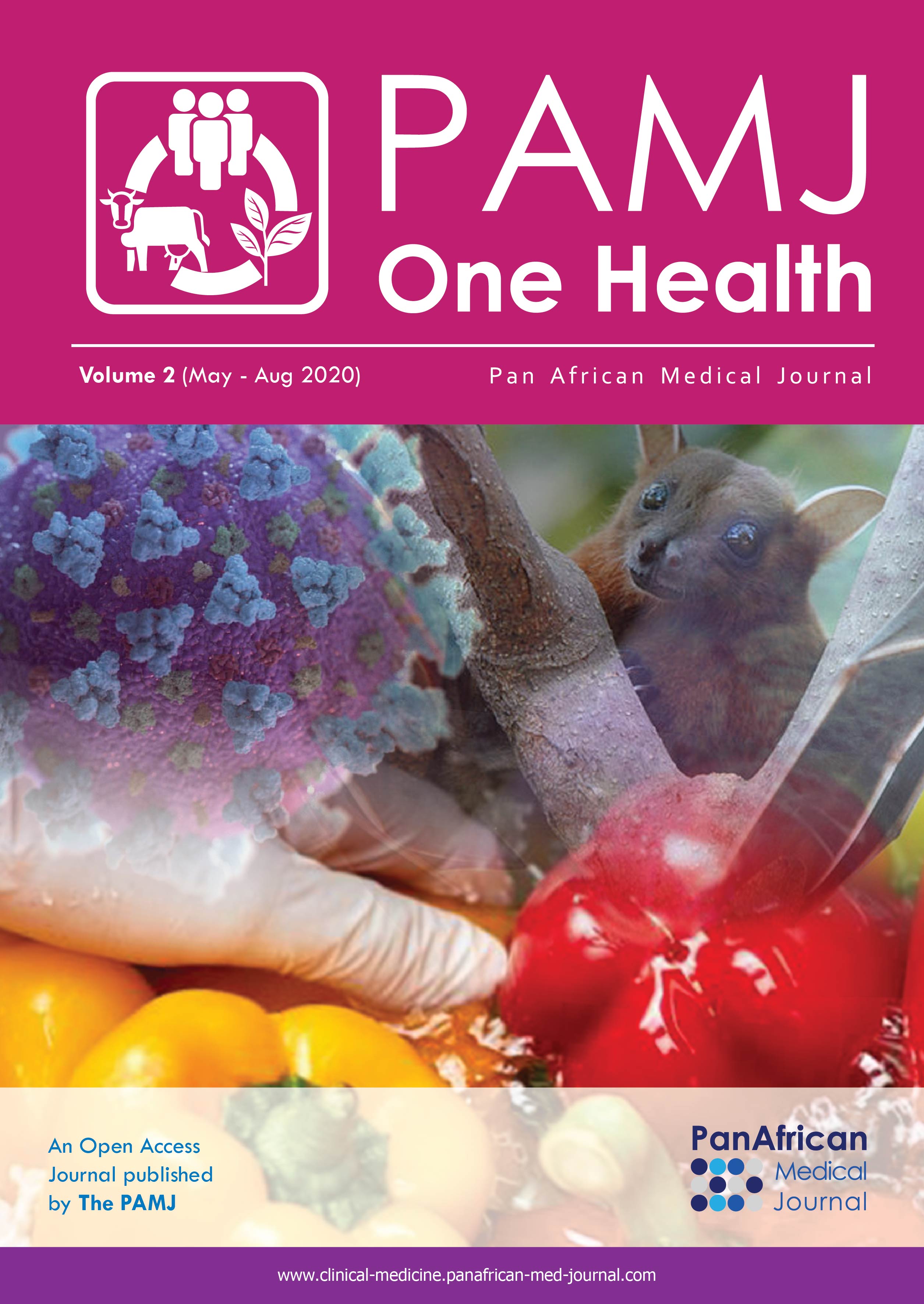 Knowledge and health system factors influencing utilization of cervical screening services among sex workers in Kiambu County Hotspots, Kenya
Knowledge and health system factors influencing utilization of cervical screening services among sex workers in Kiambu County Hotspots, Kenya
Faith Mugai1, Jane Karonjo2, Felix Mwendwa Mutua1, Peter Kamau3, John Kausya1
1Department of Epidemiology and Biostatistics, Mount Kenya University, Thika, Kenya, 2Department of Nursing Mount Kenya University, Thika, Kenya, 3Department of Community Health and Epidemiology, Kenyatta University, Nairobi, Kenya
&Corresponding author
Faith Mugai, Department of Epidemiology and Biostatistics, Mount Kenya University, Thika, Kenya
Introduction: sex workers are more prone to acquisition and transmission of sexually transmitted diseases that incorporate Human Papillomavirus (HPV) and Human Immunodeficiency Virus (HIV). Less than 10% of sex workers in developing countries are screened for cancer of the cervix annually. In Kenya, majority of sex workers present with advanced/invasive disease.
Methods: the study adopted a multistage sampling technique and 418 sexual workers were interviewed and data analyzed using Statistic Package of Social Science (SPSS) version 23. Bivariate analysis was conducted to examine possible associations between predictor variables and cervical cancer screening uptake. This was done using Pearson´s Chi Square. Association was considered significant when p-value is equal to 0.05. Qualitative data was analyzed by thematic content analysis.
Results: the results indicated that awareness of cancer of cervix (CaCX) (p=0.0001) and HCW attitude (p=0.040) were significant association with Cervical Cancer Screening (CCS) uptake.
Conclusion: healthcare providers should generate a systematic sensitization program on what is involved in the screening process and the number of times to be screened so as to address some fears by clients who find the whole process a mystery. This may increase screening uptake especially with the preference for hospital healthcare talks.
Sex work is regarded as a public health concern worldwide. The nature of the industry of "selling sex" to multiple sexual partners has a ripple effect on the health of people involved in the sex work cycle [1]. For instance, if one sex worker becomes infected with a sexually transmitted infection (STI), the whole pool of clients and their sexual partners are susceptible to being infected. Sex workers are a diverse group of women, who are from different social backgrounds [2]. Studies have shown that sex workers were likely to be less educated [3,4], however, it is difficult to generalize this to all sex workers as Vafaei [5] found no significant difference on the level of education between non-sex workers and sex workers in Melbourne. According to UNFPA/UNAIDS/Government of Brazil, sex workers start, on average, at 18 years of age and the majority are in their early twenties. The average age of first sexual intercourse globally was 16 years, especially in Asia, and some parents, because of poverty sent their underage daughters into sex work [6,7]. Cancer of the cervix represents nearly 12% of every single female malignancy around the world. High-hazard locales, with assessed age institutionalized rates more than 30 for each 100,000 female sex workers, this incorporates Central Africa (30.6%), Southern (31.5%), Melanesia (33.3%) and Eastern Africa (42.7%). Western Asia (4.4%) and Australia/New Zealand (5.5%) had the lowest rates. According to GLOBOCAN, cervical cancer still remains the most well-known regenerative tumor among sex workers in Eastern and Middle Africa. Cancer occurrence and mortality estimated globally and locally and distributed by the World Health Organization in the GLOBOCAN reports affirm that there will be constantly rise in numbers of cervical cancer, all the more so in developing nations.
The mortality rate of more than 250,000 and incidences of more than 450,000 annually in least developed nations. It is anticipated that, 98% of cervical cancer mortalities will be from the developing nations by the year 2030, mainly because of underutilization of cancer of cervix screening tests [8]. In Kenya, Cervical disease remains the second most basic type of cancer among females between 15-69 years after breast malignancy. Millions of women are at risk of developing the cancer which is preventable and easily controlled through screening and treatment of pre-cancer and more recently by vaccination [9]. The general weight of cancer of cervix is anticipated to keep ascending throughout the following ten years in Kenya [10]. The purposes behind this incorporate an absence of cervical growth mindfulness among the populace in danger, low take-up of CCS, restricted access to human services administrations, absence of commonality with the idea of preventive facilities, dread of agony amid the screening or of the test outcomes and HIV contaminations [11]. Kenya started CCS programs after realized its burden and yet majority of women present with an advanced or invasive disease [9]. Including level 4 hospitals, but the proportion of cervical cancer screening uptake and VIA/VILI positive results among those screened in family planning clinics have not been well documented. In Kiambu County, there are about 26 hotspots with over 2000 female sex workers and 1000 male having sex with male. From January to June 2017 more than 280 screening tests have been done at Kiambu county referral hospital with 10 samples being VIA-VILI positive and about 5756 women of reproductive age at comprehensive care centres. This raises a concern on the uptake of services putting in mind that services are available and health care workers have been trained on service provision.
The research was carried out at selected hotspots in Kiambu County including Githurai, Thika and Kiambu hotspots. The study focused on female sex workers (FSW) at Kiambu County hotspots (Githurai, Thika and Kiambu) which has a total of 5214 FSW. According to Kiambu Sex Workers Association (an association that registers, provides condoms, protection from harassment from clients etc.) Githurai has 1593 Female Sex Workers and 607 Male Sex Workers, Thika has 2634 Female Sex Workers and 380 Male Sex Workers and Kiambu has 987 Female Sex Workers and 42 Male Sex Workers. The study adopted a descriptive cross-sectional study that adopted quantitative method (use interviewer administered questionnaire). Fischer´s et al. (1998) formula was used to determine sample size of 419. The study adopted a multistage sampling technique, random sampling among the Kenyan counties was employed to select one county with Kiambu County selected, then stratified sampling to select the respondents, stratified sampling is a probability sampling technique wherein the entire population is divided into strata or subgroups and then the final subjects proportionally selected from the various strata, with sex workers selected. Cluster random sampling of hot spots within Kiambu County was conducted in which 3 hotspots were selected. With the thereafter, proportionate sampling in each hotspot and by use of former sex workers as research assistant, the respondents were given numbers that were sampled randomly to achieve the required sample size per hotspot. Interviewer administered questionnaire was pre-tested at Wangige Hotspot in Kiambu County and was used to collect information of cervical cancer screening, awareness CaCX, signs and symptoms and health system factors. Data was cleaned and analyzed using SPSS version 23.0, computation was done by both inferential and descriptive statistics. The relationship between variables was done using chi square with significance considered when p-value > 0.05. Ethical approval was obtained from MKU-ERC (MKU/ERC/0651), permit from NACOSTI (NACOSTI/18/25114/22084) and Kiambu County Commissioner (ED.12(A)/1/VOL.1/123).
Socio-demographic characteristics of study respondents: in this study more than half (58.0%) of the youth were aged 23-24 years and 11.2% were 19-20 years. Most of the students were females (53.2%) and 46.8% were males. The study covered youth in first year (20.4%), second year (49.9%), third year (20.0%) and fourth year (9.7%) students. Of the youth studied, 77.4% were Christians, 22.6% were Muslims and 24.2% were married.
Uptake of cervical cancer screening: the results indicate that more than half of respondents 305(72.8%) had undergone Cervical Cancer Screening. Most of the respondents 105(34.4%) and 14(4.6%) had the CCS 6 months and five years ago preceding this study respectively and 235(77.0%) had VIA/VILI method used and 69(22.6%) had pap smear test done for screening CaCX.
Awareness of cancer of cervix: most of the respondents had heard of CaCx and almost three-quarter 305(74.2%) utilized CCS, however awareness of CaCX was strongly associated with CCS uptake (p=0.0001). Among the respondents, 140(66.0%) identified bleeding between menstrual periods as a sign of cervical cancer, and this was significantly associated with CCS uptake (p=0.0001). A slightly higher than half 136(67.3%) identified presence of vaginal discharge that is smelly as a symptom of cervical cancer and this was significantly associated with CCS uptake (p=0.047) (Table 1).
Knowledge of cervical cancer risk factors: slightly more than half 237(56.8%) were aware that infection with HPV is a risk factor associated with cervical cancer and it was not significantly associated with CCS uptake (p=0.121). In addition, 185(44.6%) of the respondents identified having sex with uncircumcised partner as a risk and strongly influenced uptake of CCS (p=0.0001). Majority of the respondents 170(41.0%) were not sure whether long-term use of the oral contraceptive pill is a risk factor although it influenced uptake of CCS (p=0.008). Other risk factors influenced uptake of CCS were having many children (p=0.009) and having sex at an early age (p=0.0001) (Table 2).
Health system factors influencing cervical cancer screening uptake: on health system factors, most respondents 302(72.6%) who lived near a health facility utilized CCS, however, there was no significant association. Most respondents 112(81.2%) who said Health Care Workers (HCW) attitude was very good, utilized CCS. HCW attitude was significant association with CCS uptake (p=0.040) (Table 3).
Sex workers were aware of cervical cancer although they didn´t have detail knowledge regarding the disease. This differs with a study by Dainty who found that most sex workers have low level of knowledge on the accessibility of cervical cancer screening services or its significance [12]. The low percentage (1.9%) who hadn´t ever heard of CaCX. This lower percentage could be due to lack of familiarity with the concept of preventive health care. They also had no information on cervical cancer or did not know where cervical cancer screening was done. Similar findings were found in a survey in FPAK clinics where lack of awareness and knowledge were considered the main barriers to cervical cancer screening [13]. Lack of knowledge among women about cervical cancer has been cited in other studies [14-16]. The source of information on cervical cancer screening among most of the respondents was from a community health worker who were former sex workers (53.7%). Other sources of information on cervical cancer screening were nurses (2.7%); friends (16.7%); doctors (8.3%) and family members (18.6%). On the contrary, a qualitative study in Nigeria found out that the respondents did not know what cervical cancer screening entailed nor did they know the screening methods though they still believed that it is important, since like for other diseases, it helped in early detection and treatment [7]. Most of the respondents, 302(72.6%) had physical access to health facilities because the facilities were 30 minutes or less from their homes. The distance to health facility was estimated by asking the respondents the village or the sub location she came from and the researcher could approximate the distance. This was not significantly associated with uptake of cervical cancer screening services. Abiodun et al. in their study on Knowledge attitudes and practices of cancer of the cervix screening among urban and rural Nigerian women,'' described location of health facility and its accessibility as one of the factors that affects utilization of health services [17].
A study done by Rweyemamu in their paper on ''situation of maternal health care in Tanzania'' also revealed that physical distance to the nearest health facility influences health seeking behavior among women [18]. Long distances to the CCS services lessen the probability of females getting to screening [19]. A community-based, cross-sectional survey uncovered that poor transportation is an extra issue [2]. A community perceptions study among 220 children, males and females in Bangladesh on CCS and cervical cancer found that low need for looking for help for indications, constrained accessibility of wellbeing administrations was among the most widely recognized obstructions to screening [20]. According to Kumakech and Kiguli-Malwadde [21,22], a big number of women in Uganda are too poor to afford transport costs to the regional referral hospitals which provide cervical cancer screening services. However, many of the women in this study cited that they lived in the hospital area and therefore these were not barriers. However, the long waiting times and time taken off work increases the opportunity costs of seeking cervical cancer screening services making women weary of going for any follow-up appointments [23]. The study participants reported that female health workers were often very rude to them and this impacted on their interest to seek care. This has also been reported in Mbatia [24] in rural Kenya that when health workers showed insensitivity to women´s needs and did not communicate well, women preferred not be screened. In addition, a review by Obuna et al. [25] highlighted the importance of good communication skills by health workers on issues surrounding cervical cancer counselling giving due respect and confidentiality to women´s concerns and feelings.
Awareness of cervical cancer screening among the respondents was high but their knowledge of the signs and symptoms and risk factors associated with cervical cancer was low. This indicates that the female sex workers have a high level of the general knowledge about the disease but no detailed knowledge of the cervical cancer or its progression. The main facilitating factors to cervical cancer screening is community health education about cervical cancer screening. The County Government should provide public health facilities with adequate human and material resources for cervical screening purpose and together with National Government increase health care provider knowledge and skills. Community health strategies such as outreaches, community mobilizations and medical camps should be initiated to increase the numbers of women to be screened for cervical cancer.
What is known about this topic
There is a low reported uptake of health services and in particular cervical cancer screening among the respondents already with cancer of cervix;
The fact that sex work is illegal in Kenya makes the utilisation of screening skewed.
What this study adds
Gives an idea of the magnitude of the health systems that affect the sex workers. Which proves that availability of services is a key component;
A relationship between sociodemographic and utilisation of screening services.
The authors declare no competing interests.
All the authors have read and agreed to the final manuscript.
The authors would send special gratitude to former sex workers who played key role in finding the respondents from the hot spots. Sincere gratitude to all Kiambu county director of health and respondents who took part to make this study successful.
Table 1: awareness of cancer of cervix

Table 2: knowledge of cervical cancer risk factors

Table 3: health system factors influencing cervical cancer screening uptake


























Search
Volume 12 (Sep - Dec 2023)
This article authors
On Pubmed
On Google Scholar
Citation [Download]
Navigate this article
Similar articles in
Key words
Article metrics
---
Recently from the PAMJ-OH